Atlantic Acromegaly Support - About Us
Due to the relative low incidence of acromegaly, patients often express feelings of anger and frustration, and may feel isolated due to the delay in diagnosis. Many such patients benefit from participation in a support group. Being an active member of a support group gives individuals with acromegaly or an chronic illness an opportunity to move towards a healthier emotional state and take control of their lives. Atlantic Acromegaly Support is one such group. As with many patients attending the clinics at the Endocrinology clinic in Halifax, we were looking to organize a group of patients with Acromegaly. For some it would mean a lot to be able to "put a face" to this condition, and to have other people to discuss this condition with. Our determination paid off when our group first met in June 2005. It was a very moving experience to be there for the first ever Acromegaly Support Group meeting. There were in attendance 12 patients with Acromegaly, the clinic nurses and clinic Doctors and some family members.
It was certainely amazing to see others with this condition, to hear how they were diagnosed and the effects this condition has had on their physical and family life. We meet again in the fall of 2005 and agreed to meet twice per year, in the spring and fall. We set up a phone tag list for each of us to phone when ever we felt we needed support. On April 20th of 2006 we successfully formed the Atlantic Acromegaly Support Society. We, at this time, still meet twice per year.
Our goal at our meetings is to have a Guest Speaker who will speak about the conditions and treatments available to us in the different fields that we need to be seen for the clinics (e.g. Endocrinology, neurology, radiology etc.). We have had some GREAT presenters so far. We have approximately 50 patients who have been diagnosed with Acromegaly within the Atlantic Provinces and there are approximately 25, who attend our meetings to date.
---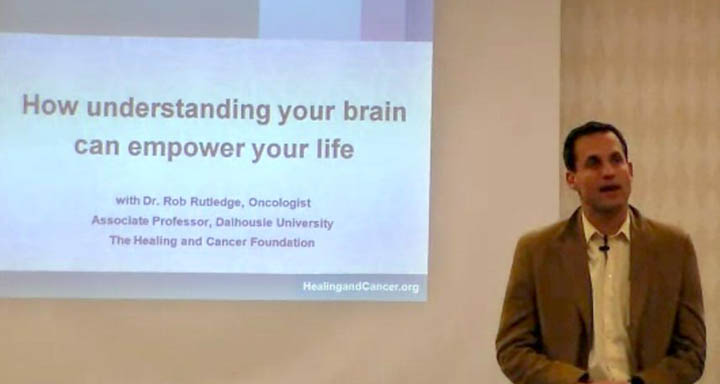 Atlantic Acromegaly Support is please to offer meetings with guest speakers twice yearly.
Left - Dr. Rob Rutledge speaking on understanding the brain.